Liberty is finally able to pick up its first D1 win of the season as they snatched victory from the jaws of defeat over Western Carolina 63-62. What we learned: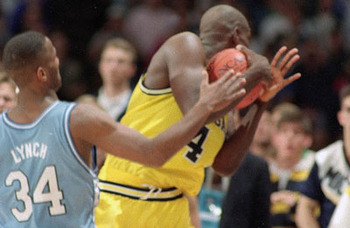 Liberty wins in a fashion eerily similar to the famed Chris Webber timeout call
The Flames can beat a Division I opponent! We all knew they could, but until it actually happened there was that little bit of doubt in the back of everyone's mind.
The frontline rotation of Gielo, Coronado, and VanderPol continues to pay off large contributions. These 3 combined for 26 points and 20 rebounds.
24 Liberty turnovers were not enough for the Catamounts to win.
Liberty had 3 players in double figures: Tavares Speaks (13), Tomasz Gielo (10), and Davon Marshall (10).
It looks like Layer has finally settled on an 8 man rotation of Marshall, Sanders, Roberts, Gielo, Coronado, Speaks, VanderPol, and Donley.
Sommy Oguwke returned to action after missing the Union game with a concussion. Ogukwe only played 2 minutes.
Here's a quick play by play breakdown of an amazing finish:
Western Carolina led 62-58 with 10 seconds left after a Trey Sumler 3 point play.
John Caleb Sanders got a quick layup in transition and got fouled. He made the free throw to make it 62-61 WCU with 5 seconds left.
The Catamounts were attempting to get the ball in bounds, but could not and called a timeout to avoid a 5 second call.
WCU had no timeouts remaining at the time, and therefore was called for a technical.
Tavares Speaks knocked down both technical free throws to give Liberty the 63-62 victory.
Liberty now heads into conference play with a 3 game win streak and hopefully some positive momentum. The Flames host 2 time defending Big South Champions UNC Asheville on January 5. Tip is at 6pm.