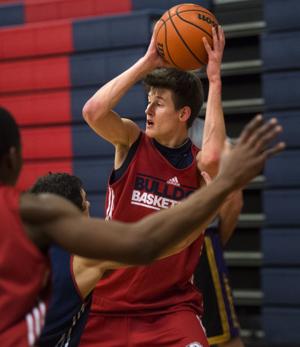 Jay Barber
Liberty Christian Academy
Lynchburg, VA
Shooting guard
6'4″
Class of 2017
Update 8/6/15: Barber committed to Coach McKay and Liberty on Wednesday night.
Blessed to announce that I have officially committed to Liberty University. No better coaching staff in the world pic.twitter.com/mmmM1Ssbaj

— Jay Barber (@jeffrey_barber_) August 6, 2015
Barber has picked up his first offer from Liberty over the weekend. He is the son of Liberty Athletic Director Jeff Barber. Jay has also received interest from Mercer and Brown. This past season at LCA, he averaged 13.7 points and 2 rebounds per game while shooting 76/162 (47%) from 3- point range. Read more on Jay from an article in the Lynchburg News & Advance from January here.
Team Loaded (VA) 16's and Lynchburg Christian 6'4 SF Jay Barber received offer from Liberty University. Interest from Mercer and Brown

— teamloaded_DC (@teamloaded_DC) May 16, 2015
This dude Jay Barber walks on to the floor hot. 6'4 2017 is hand down man down, ripping these nets #HGJamFest

— Jamie Shaw (@JamieShaw5) May 17, 2015
2017 Jay Barber is 9-13 from 3 this weekend. Playing smart, patient basketball. One of the top shooters here #VaHoops pic.twitter.com/sYpYEzkhDH

— Vantage Hoops (@VantageHoops) May 17, 2015