On November 10, 2012 Liberty's football team defeated #6 Stony Brook. This comes in at #3 on our Year in Review Top 10.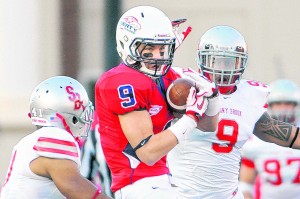 Stony Brook was too big. Their running backs too explosive. Liberty had no chance under first year head coach Turner Gill. That's what they thought. But Liberty knocked off #6 Stony Brook 28-14 in impressive fashion. Liberty forced 5 Seawolves turnovers including 2 returned for scores.
Stony Brook's vaunted rushing attack (was averaging 304 yards per game) was held to just 156 rushing yards. Stony Brook's quarterback Kyle Essington came into the matchup with just 4 interceptions; Liberty picked him off 4 times.
The win marked Liberty's first ever win over a top 10 FCS team, previously Liberty was 0-14 against FCS top 10 teams. It also extended Liberty's Big South record of 18 consecutive home conference wins which is still in tact.
LibertyFlamesNation.com's inaugural Year in Review Top 10:
10. Volleyball's 2012 season
9. Baseball beats #6 North Carolina
8. Women Basketball's 2011-12 season
7. Burrus' Buzzer Beater
6. Athletic Facilities Upgrades
5. Jesse Sanders' career
4. Golf's NCAA tournament performance
3. Football team beats #6 Stony Brook