This week I was able to chat with Josh Newman of the Asbury Park Press to get his insight on the Monmouth Hawks football team. Here is the transcript of our conversation:
Me: With Monmouth having to travel cross country to Montana State and back to New Jersey, then south to Virginia this week, how do you think the travelling will affect them, if any at all?
Josh: They got back in the early morning hours on Friday, the team had a day of rest, watched film, they were back on the field (Monday). So, you would think that the 2 extra days will give them the rest they need and get back on the field this week to get ready for Saturday.
Me: Pretty, loud raucous crowd in Montana?
Josh: I wasn't out there, but I was watching it online and I've spoken with members of the travelling party. They have never seen anything like that. The program has only been playing football for 21 years. They had not ever travelled further west than the state of Ohio to play football. So, it was a very different animal out there in Montana State, and based on the way the first half went I think they were a little overwhelmed. But once they kind of settled down, the 2nd half was a lot better for them.
Me: Liberty is hoping for 17 or 18,000 this weekend so it might be the same type of atmosphere.
Josh: The Montana State crowd was the 2nd largest crowd they've ever played in front of. They're used to that small, 1-AA, non-fully funded kind of football. Going out there, and I'm sure going down to Liberty on Saturday, it's just a very different animal than the program has ever experienced. So I think there were a little nerves for everyone involved.
Me: Have you heard much talk amongst the coaches or the players, of using this game against Liberty as a measuring stick for where they will be going into the Big South next year?
Josh: I did talk extensively during the preseason with Coach Callahan and a couple players they really are using this Liberty game as a measuring stick for where they are, how far they need to go, in order to be able to compete at this level. They scheduled this Liberty game, one obviously because it's a guarantee game, but at the same time they wanted a game like this to gauge where they are. Again, they are only at 40 scholarships, they're only going up to 50 next year, and they're not going to get up to the maximum number for maybe 2 or 3 years. So, this is a really good game to gauge where they are and how far they have to go to be able to compete.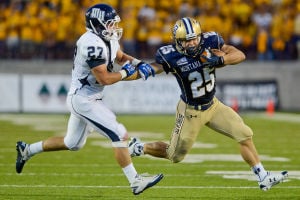 Me: You just answered my next question, I was going to ask you about the scholarship situation. Have they started increasing them and how long before they get up to the 63 level?
Josh: Yeah, they're at 40 now, they're going to 50 next year. They don't actually have a set time or set date of when they want to get to the maximum, but indications are that in the next 2 or 3 or 4 years is when they'll get up there. But there's no set date yet really.
Me: Speaking more specifically about the Montana State game, it was obviously very lopsided at halftime, then the 2nd half seemed to be much more competitive. Was this more of Montana State letting their foot off the gas, or Monmouth settling in, or a little bit of both?
Josh: I do think it was a little bit of both. Again, I think they walked in there, and they were pretty overwhelmed by the atmosphere. Again, Montana State has aspirations for a FCS national title, and they had much of their starters out by middle-late 3rd quarter, and Monmouth had their starters in. So, I think that played a little part of it. You know Monmouth had their starters in, Montana State started to breathe. The (Monmouth) starters started to play really comfortable early in the 3rd quarter when they were still just the 1s vs the 1s, but again the atmosphere was a little overwhelming. They (Monmouth) took a breathe, kind of settled in and did some nice things there in the 2nd half that hopefully they take into this game on Saturday.
Me: Quarterback Brandon Hill, I believe that was his first game as a starter…
Josh: Yeah, he's a transfer from UMass. That was his first game in a while, he had transferred in, he had shoulder trouble and was injured. At UMass they went from FCS to FBS, and long story, short, that wasn't really a place for him once they had went to the MAC. He was looking for a home, and contacted Monmouth. They took a look, and they billed it as he was in a quarterback competition, but he was going to win. He was far and away the best quarterback on the roster. He went in there in the quarterback competition, and he looked really, really good during camp. He has a cannon, again, he was far and away the best quarterback, there wasn't much of a competition.
Me: He ended up with pretty solid stats in the game, did he seem a little razzled by the crowd at the start?
Josh: Yeah, the atmosphere. Montana State, they are a very physical team, in my opinion, up front defensively. And with (the extra) scholarships, you're rolling out a lot more kids. I mean, Montana State they're fully-funded 1-AA football, and you're talking about a program in Monmouth that is not at that level yet. Especially on the lines, the kids are so much bigger, faster, and stronger at that high-level FCS that it's very hard for a team like Monmouth to compete up front. Was Hill rattled? Maybe he was a little rattled at the start, but I think he settled in there a bit.
Me: Running back Julian Hayes seemed to have a good day…
Josh: Yeah, he was probably the lone bright spot there in the first half. He's quite the shifty kid, he goes north to south, he's physical along with his shiftiness. I forget what his exact numbers were there in the 1st half, but amidst a lot of ugly offensive numbers, you can feel he really did his job very well against Montana State. He had a real nice game, in fact, I know he broke 100, I don't know what the exact number was. Coach talked him up during the Summer and that kid is primed for a very big season. It doesn't get much better than having a night like that against Montana State, and I think he's in line for a real big year.
Me:  What would you say is Monmouth's biggest strength?
Josh: Their skill position kids. You go back to kids like Hill, assuming the worst is over for him, going up against a team like Montana State hopefully he can settle in. That's what you would call a big time FCS quarterback, a big time arm for that level. Then you have a guy like Hayes. Monmouth has put out 3 quality skill position kids with Hayes, a wide receiver by the name of Sterling, Neal Sterling. He's a 6'4″ 215 pound very athletic kid. The skill position kids over the years, 5,6,7 years have really shined over at Monmouth. A lot of their kids have gotten NFL looks, Miles Austin with the Cowboys now, Jose Gumbs, I believe he made the Redskins. I may be wrong about that, but I think he made the 53 man roster for the Redskins. A bunch of skill position kids have really shined over the years with Monmouth.
Me: What would you say is Monmouth's biggest weakness?
Josh: The youth and the size of some of the teams. I mean I haven't looked at the Liberty roster yet, but….you look at the schedule a team like Montana State, a team like Liberty, a team like Coastal Carolina who they play later in the season. Teams like that, they are so much bigger, and so much stronger and faster than Monmouth. They are playing a daunting schedule with teams like that, Montana State, Liberty, and Coastal Carolina, those are 3 teams that you just know going in at most positions you are going to be at a disadvantage just in terms of size and speed and skill because they have more in terms of scholarships. So, a weakness is probably the size and speed and skill of some of the teams they're playing.