Today our Big South Basketball Preview continues with the Coastal Carolina Chanticleers. Coastal finished this past season in 4th place in the South Division with a 9-7 conference mark and 14-15 overall record. The Chanticleers were upset by Liberty on their home court 78-61 in the 1st round of the Big South Tournament.
Losing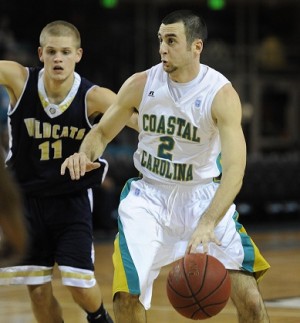 Anthony Raffa
Anthony Raffa
6'1″ 180lb G
19.1 points, 3.6 rebounds
Kerre Greenwood
6'2″ 175lb G
12.9 points, 4.1 assists
Charles Ashford
6'1″ 180lb G
2.7 points
Bisi Addey
6'7″ 205lb F
1.4 points
Losing Raffa & Greenwood could be damaging for the Chants.


Returning

Warren Gillis
Jr 6'3″ 200lb G
10.5 points, 4.0 rebounds
Head Coach Cliff Ellis
El Hadji Ndieguene
Sr 6'10" 245lb F
6.1 points, 6.9 rebounds
Michel Enanga
So 6'5″ 210lb F
6.0 points, 6.0 rebounds
Badou Diagne
So 6'7″ 212lb F
5.4 points, 4.3 rebounds
I'm glad I don't have to pronounce these names.

Incoming
Colton Ray-StCyr
6'5″ 170lb G
Elijah Wilson
6'3″ 180lb G
Outlook
Hard to expect the Chanticleers to improve on their 2012-13 season after losing 2 senior guards the quality of Raffa & Greenwood. Of course, you never know what tricks are up Cliff Ellis' sleeve.
Previous team previews:
Presbyterian
Winthrop